Data Services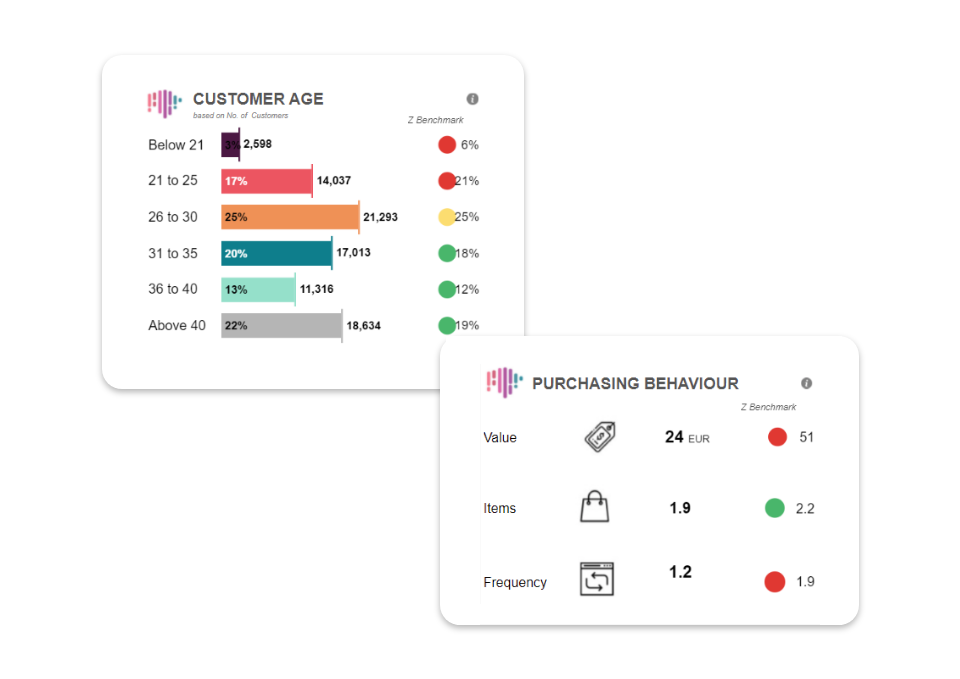 What Is It
TRENDER Professional provides you with interactive dashboards of extensive data insights, allowing you to analyse your business on ZALORA. As a business intelligence platform, TRENDER Professional consists of a selection of modules like…
Customer Insights
Product Insights
Traffic Insights
Competitive Analysis
Live Sales and Inventory Updates
… and many more.
New TRENDER modules and insights are always being worked on to bring you insightful data and help you make informed decisions for your business.
right-img img-txt-design-2 apercu-light-20 laptop-fwlight laptop-f16
#ED722E
#FE3B66
About TRENDER
Envisioned with retail intelligence in mind, TRENDER is ZALORA's latest analytics solution where fashion meets data. Powered by our team of in-house experts, brands can now fully benefit from ZALORA's trade intel derived from more than 60 million visits per month. As one of the innovators of large-scale e-commerce in the region, ZALORA's years' worth of trade provides brands with a holistic view of the evolving retail landscape in Southeast Asia.
With a comprehensive database, we pride ourselves on having the largest number of highly qualified, fashion-focused, and purchase-intent audiences in Southeast Asia, making us perfectly positioned to predict fashion and lifestyle trends than anywhere else within the region. Given the intricacies of today's retail climate, we believe that it is through such transactional data, businesses can best meet a consumer's ever-changing needs.
TRENDER Professional is a self-service business intelligence platform where brands can draw on ZALORA's extensive data ecosystem & gain insights into transactional, browsing and customer data. One can also take advantage of ZALORA's benchmark data and compare their performance with over 9,000 local and global brands. Brands can upgrade their subscription plan to gain access to more features such as data extraction, API integration, and the ability to fully edit their own dashboard.
By providing more visibility and insight into their products and audience, TRENDER enables brands to drive their businesses strategy, not just on ZALORA, but throughout all sales channels from design to delivery.
sticky-design-2 z-py-90
#F8F8F8
#F8F8F8
Who Is It For
Brands like yourself who are keen on using advanced data analytics and visualisations to achieve growth and strategic targets through insightful data, as well as to identify and meet your consumers' needs.
text-area-design2 z-py-90 border-bottom laptop-f50 laptop-f16
Key Benefits
Compare Against Market Benchmark
Know where your brand's position in the competitive landscape
Insights On Trending Product Assortments & Pricing
Know what to stock and how much to sell for
Elevate Design Intelligence
Know what consumers are looking for
Explore Geographical Segmentation
Know where the demand is coming from
Understand Customer Buying Behaviour
Know which products consumers are buying
Deep Dive Into Customer Portfolio
Know who is buying your products
z-py-90 border-bottom margin-3-grid laptop-f50 laptop-f16
Dashboard Offerings
General Modules
Customer Insights
Analyze customer demographic
Segments/ Trends and purchasing behavior
Traffic Analysis
Track marketing metrics
Evaluate conversion rate, page views
Product Insights
Understand product attributes
Top selling products, season assortment
Basket Analysis
Sub categories purchased together
Price bands purchased
Competitive Insights
Monitor sub category rank position
Understand market trend
Ratings & Reviews
Analyse top and bottom rated products
Understand customers' reviews
Return Rate Insights
Analyze reasons for return
Monitor most-returned products
Trade Modules
Weekly Inventory
Monitor Stock quantities at SKU and size level
Full visibility over closing stock, STR, cover days, low performers and OOS
Daily/ Live Sales
Monitor daily/hourly sales, orders, markdowns, basket value and more
Visualize daily traffic and intent at category and subcategory level
Access and download raw data about stock at SKU simple (size) level
Campaigns
Monitor campaign sales on a daily basis
Understand campaign performances
Compare campaigns with each other and against no-campaign periods
z-py-90 margin-3-grid laptop-f50 laptop-f16
Subscription Package Types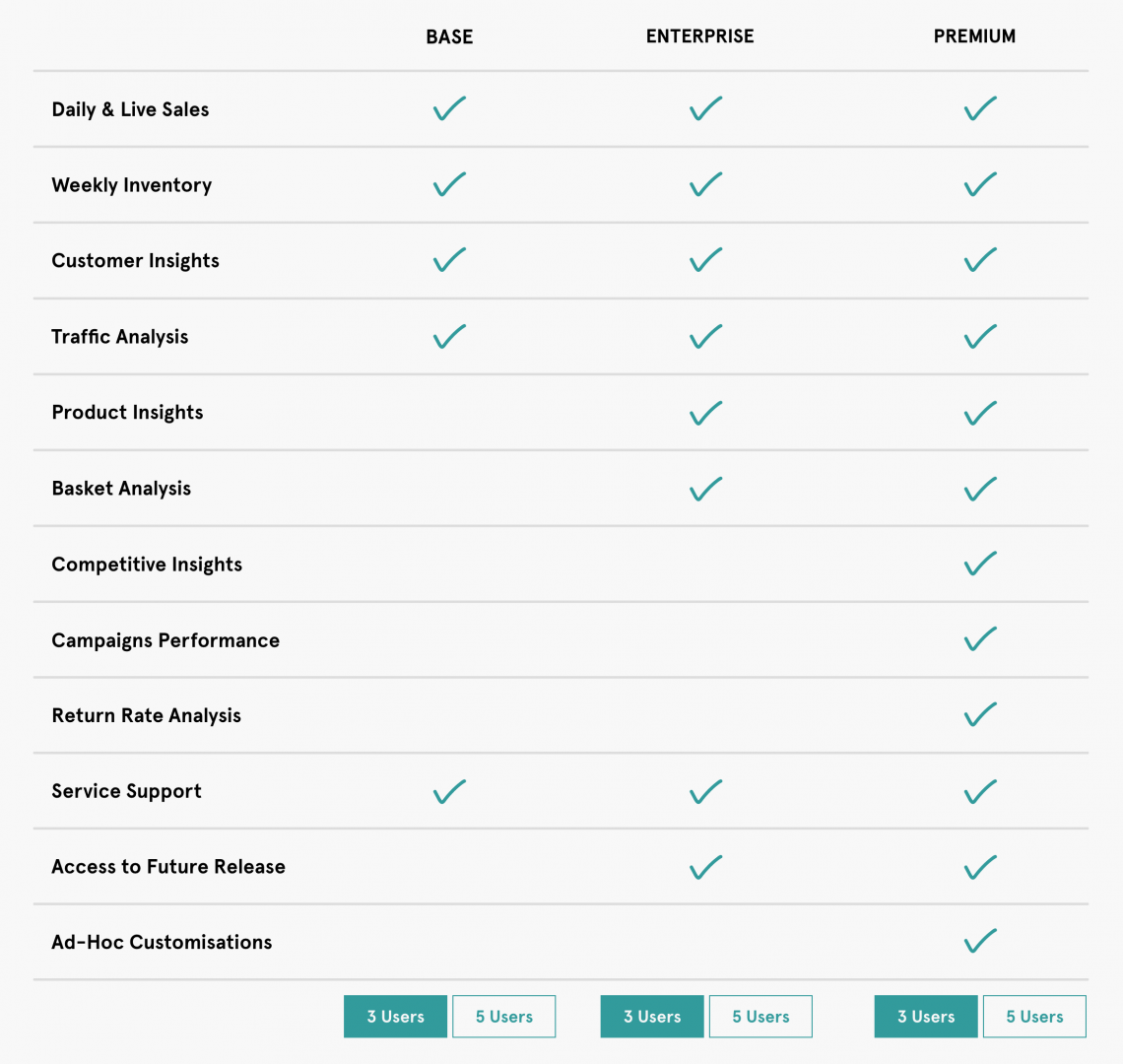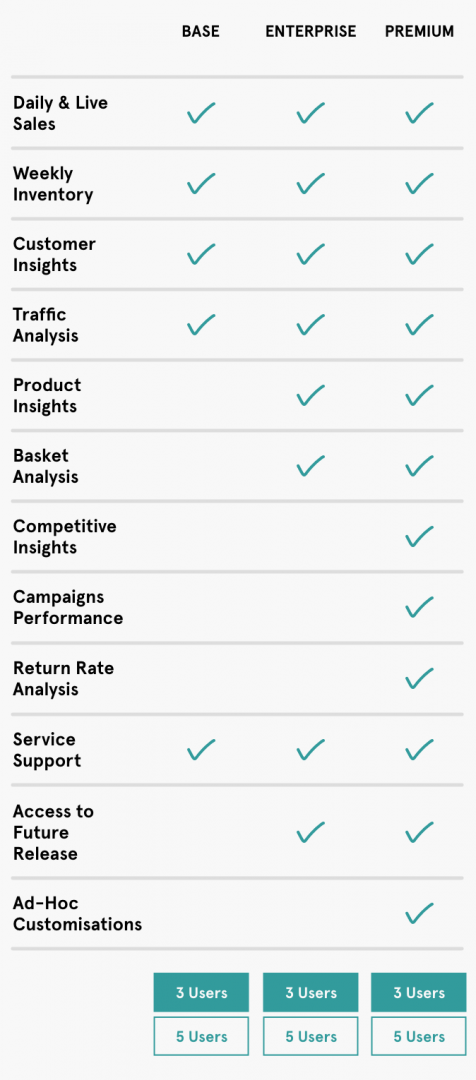 padding-top-90 laptop-f50 zoom-img padding-bottom-90
#F8F8F8
#F8F8F8
Sign Up For A FREE TRIAL!
Access to sales, key product, inventory, competitor & customer insights. Empower your team with leading industry data right at your fingertips.
z-py-90 border-bottom laptop-f50 laptop-f16
CURRENT CLIENTS












margin-top-90 big-logo-slider
doodled-bg-1-btn margin-bottom-90 margin-top-90
Get In Touch
Have a question, or simply wish to contact us?
Begin your digital retail journey here, and let us help you connect your business to the limitless world of shopping possibilities.